Self Defense Workshop: Presented by Harrisburg Area NOW
March 16 @ 3:00 PM

-

5:00 PM
arrisburg Area NOW is so excited to host our very first self-defense workshop! This is an introductory self-defense workshop open to ALL women, of ANY age, and ANY experience level. No experience is needed. Honestly, this is an event that you should bring your mom to. And your aunts. And your sister. And your daughter. And your friends. And your daughters friends.   
This is a two hour hands-on workshop on how to escape common assault scenarios and will provide basic techniques to improve situational awareness. You will learn the basics on what to do if someone tries to pull you into an alley, push you into a car, or pin you to the ground. Please wear comfortable workout clothes that you feel ok moving around in. No fitness level or experience is required and all women are welcome to attend. 
The workshop will be taught by the bad a** women at Dangerous Damsels Brazilian Jiu-Jitsu & Judo. 
This is a FREE event but cash and check donations will be accepted at the door. As with all Harrisburg Area NOW events, we will also be collecting pads, tampons, and adult diapers for local women in need. Please email us if you have questions.
This event is not wheelchair accessible as it is on the second floor of the building with no elevator access.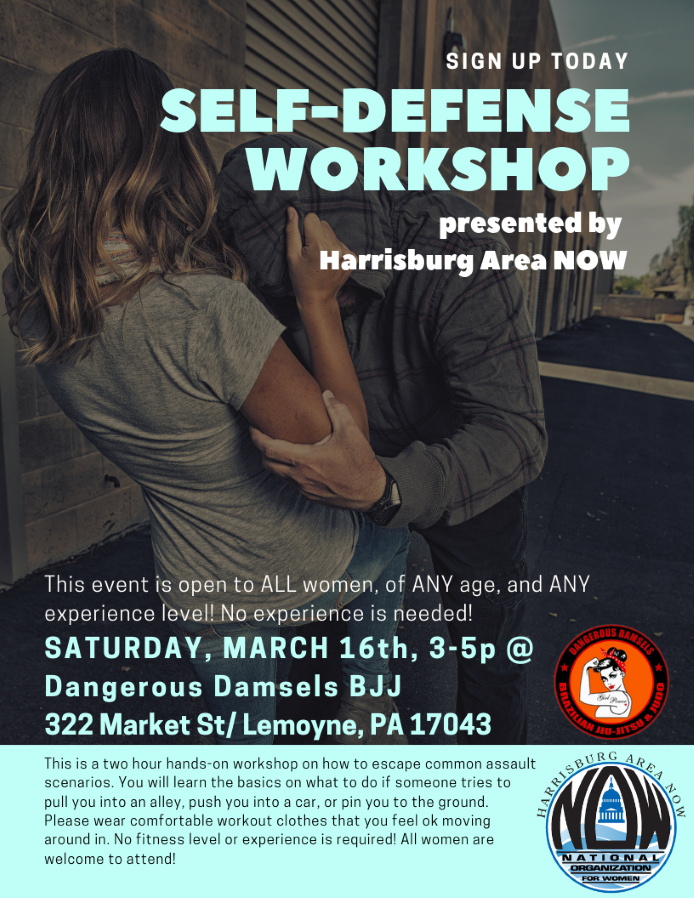 Related Events